Disney Pluto Dog, also known as Pluto the Pup is a really famous Disney Character. He is also super cute! Here is some of his history and how he came to be.
Disney Pluto Dog History
Disney Pluto Dog was created by Walt Disney Productions in 1930. He made his debut as a bloodhound in the Mickey Mouse cartoon 'The Chain Gang.' Disney Pluto Dog forms part of the Sensational Six which include Mickey Mouse, Minnie Mouse, Donald Duck, Daisy Duck and Goofy. These six are the biggest stars in the Disney Universe. Pluto is the only one who is not dressed like a human.
Walt was inspired to create Pluto, Disney's top dog by remembering the personable pooches he met while living on the farm in his childhood home of Marceline, Missouri. Ever since Pluto has, as Walt put it, been "working hard and trying, but usually not succeeding, in staying out of trouble.
He is a medium-sized short-haired mixed breed dog with black ears and a yellow-orange colored body. He is one of the few Disney characters who is not anthropomorphic or human-like, apart from some of his facial expressions. He is officially Mickey Mouse's pet.
Disney Pluto Dog appeared in 24 Mickey Mouse films before receiving his own series in 1937.  He was a minor character before 1934, and that was when Disney animator Norm Ferguson cast Pluto in Playful Pluto, and this cartoon became a classic. Between 1930 and 1953 Pluto appeared in 89 short films, some of which were nominated for Academy Awards. Lend a Paw actually won the award in 1942. He only officially became Mickey Mouse's pet in his third film, The Moose Hunt. He uttered the two words 'kiss me' during this film, but after that he didn't speak again.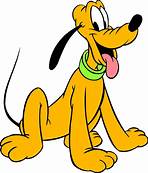 Pluto is an adventurous and cheerful dog, and he panics when confronted with the unknown. He loves Mickey and gets jealous if Mickey gets another pet. Pluto often gets himself into trouble, which causes Mickey to get angry with him, but the anger doesn't last long and always ends with Mickey telling Pluto "I can't be mad at ya."
Disney Pluto Dog doesn't speak, so he has to rely on physical humour and expressing his personality through animation rather than dialogue.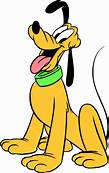 Pluto was the only Disney Character not included  when the gang was reunited for the 1983 Mickey's Christmas Carol. However, Pluto did The Prince And The Pauper in 1990, Runaway Brain in 1995, and has appeared in the television series Mickey Mouse Works during 1999 and 2000 and in Mickey Mouse Clubhouse from 2006 to 2013. He also had cameo roles in Who Framed Rodger Rabbit in 1988 and in a Quack Pack episode "The Really Mighty Ducks".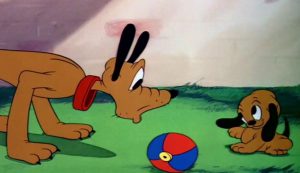 Some people have wondered if the planet Pluto was named after the Disney Dog, but it is actually the other way around. Disney's animators believe that Walt Disney chose the name of Pluto to capitalize on the newly named planet.
Pluto's friends are Fifi the Peke, Dinah the Dachshund, and Ronnie the St. Bernard Puppy. His irritations in life are Butch the Bulldog, Figaro the Kitten, Chip 'n Dale, Spike the Bee, Salty the Seal, Milton the Cat and Bent-Tail the Coyote.
Pluto has a son who is referred to as Pluto Junior and a kid brother named K.B.
In Disney's Toontown Online, Pluto runs his own neighborhood called Brrrgh. In Brrrgh it always snows except during Halloween. Pluto has only talked a couple of times and one of them is in Minnie's Melodyland.
Here is a cartoon movie of him with Mickey Mouse and it is called Society Dog Show.