I remember seeing Lady and the Tramp when I was a child and absolutely loving it. I think I must have seen it about ten times after that first time, and like most of the animated Disney films, it is a true classic that has stood the test of time.
This post does contain affiliate links.
Lady And The Tramp History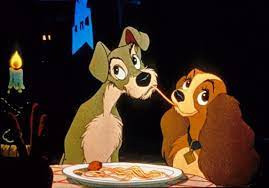 Lady and the Tramp is an American animated musical romance film that was produced by Walt Disney and released by Buena Vista Film Distribution in 1955. This was the first animated Disney film to be distributed by them.
It was directed by Clyde Geronimi, Wilfred Jackson, and Hamilton Luske. The voices featured are Barbara Luddy, Larry Roberts, Bill Baucom, Verna Felton, Peggy Lee, and Bill Thompson.
The movie was based on the 1945 Cosmopolitan magazine story 'Happy Dan, The Cynical Dog' by Ward Green.
It tells the story of a female Cocker Spaniel named Lady who lives with an upper-middle-class family and a male stray mongrel called Tramp. When the two meet they fall in love and embark on many romantic adventures together.
It was a box office success story when it was released on the 22nd of June 1955 and it was the first animated film to be filmed in the CinemaScope Widescreen process. 
The film initially received mixed and negative reviews by the film critics but got more popular as times moved on. The film is now seen as one of the best-animated films from Disney.
A sequel was released on the 27th of February 2001 on video called Lady and the Tramp II: Scamp's Adventure.  This story centers on the adventures of Lady and Tramp's only son, Scamp who wants to be a wild dog. 
He runs away from his family and joins a gang of junkyard dogs to fulfill his longing for freedom and a life without rules. 
Lady and the Tramp have also had their fair share of drama. 
"Lady and the Tramp (1955): Two Siamese cats, Si and Am are depicted with anti-Asian stereotypes. There is also a scene at a dog pound where heavily-accented dogs all portray the stereotypes of the countries their breeds are from – such as Pedro the Mexican Chihuahua, and Boris the Russian Borzoi."
As you can see from the trailer above, another version of Lady and the Tramp was released in November 2019, but to me nothing quite beats the first great classic.
Own Your Own Lady / Tramp Merch
Get your own copy of the original copy of this classic movie.
This is a lovely gift for a collector of Disney pieces and is made out of wood.
Or you may like a Christmas ornament of your favorite doggy couple.
And isn't this Tramp soft toy simply adorable?
And I love these PJ pants with a drawstring featuring the two stars.