Let us look at the history of Goofy. Goofy is an enormously popular Disney cartoon character that has his own interesting story to tell.
The word Goofy means: being crazy, ridiculous, mildly ludicrous or even silly.
So the name Goofy describes Goofy very effectively. Here is a brief look at the history of Goofy and how he came to be so famous.
This post may contain affiliate links.
Who Is Goofy?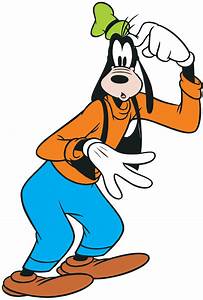 Goofy is a comical animal cartoon character created by Walt Disney Productions in 1932. He is a tall anthropomorphic dog with a southern accent.  He likes to wear a turtle neck and vest with pants, shoes, a tall hat, and white gloves.
Goofy is one of Disney's most popular characters. He is extremely dimwitted and clumsy, with an occasional burst of intuitiveness and cleverness which comes through in his own unique and eccentric way.  Goofy is an "everlasting optimist, a gullible Good Samaritan, a half-wit, a shiftless, good-natured colored boy, and a hick".
Goofy's full name is Goofus D. Dawg.
Goofy loves to say 'gawrsh' which is his exclamation of surprise and his way of pronouncing 'gosh.' He also has a distinctive chuckle that sounds like 'ah-hyuck.' and 'hoo hoo hoo hoo!'
It is rumored that Walt Disney disliked Goofy cartoons, saying that they were merely stupid cartoons with gags tied together and no emotional engagement. He threatened often to terminate the series. Whether this was true we will never know……
The History of Goofy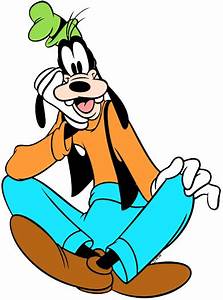 Goofy made his first appearance in Mickey's Revue, which was released for the first time on the 25th of May 1932. It was a short movie featuring Mickey Mouse, Minnie Mouse, Horace Horsecollar, and Clarabelle Cow doing a song and dance show. He was first named Dippy Dawg and was a member of the audience who constantly irritated his fellow spectators by noisily crunching peanuts and laughing loudly.
Art Babbitt is credited with the creation of Goofy and Frank Webb did the original drawings.
If you want to view some Goofy cartoons, you can click here.
The first version of Goofy was a bit different from the one we know and love today. He was an old man with a white beard, a puffy tail, and no trousers, shorts, or undergarments. But the one thing that has remained the same is his distinct laughter, which was done by Pinto Colvig.
On the 17th of September 1932, a considerably younger Dippy Dawg appeared in 'The Whoopee Party' as a party guest and a friend of Mickey and his gang. In the end, Dippy Dawg made four appearances in 1932 and two more in 1933, but mostly in cameo roles.
Then came the silly symphonies cartoon 'The Grasshopper and the Ants.' The Grasshopper had an aloof character similar to Goofy and shared the same voice as the Goofy character (Pinto Colvig).
On Goofy's seventh appearance in Orphan's Benefit which was released on the 11th of August 1934, he officially gained the new name of Goofy and became a regular member of the gang along with two other new characters Donald Duck and Clara Cluck.
Once Goofy, Pluto and Donald came into the picture, Mickey's part was a little diminished, the reason being that between the easily frustrated Donald and Pluto and the off his rocker Goofy, Mickey became gentler and more laid back and seemed to become the only normal one.  Writers found it easier to write for Donald or Goofy and they did 'Polar Trappers' as a duo together on the 17th of June 1938.
You can watch it here…..
To continue with the history of Goofy, Tugboat Mickey was released on the 26th of April 1940 and was the last of the shorts to feature all three characters – Mickey, Donald, and Goofy.
Goofy had his first solo cartoon starting in 1939 – 'Goofy and Wilbur' on the 17th of March 1939. Wilbur was Goofy's pet grasshopper. After that, he was given his own series of shorts which proved highly popular in the 1940s and early 1950s. Two of his shorts were nominated for an Oscar – 'How to Play Football' and 'Aquamania.'
In the 1950's Goofy had an unnamed wife, whose face you never see, but she dies later on leaving Goofy with a son Max whom you can see in 'Goof Troop.'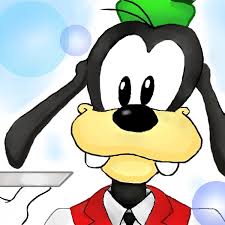 In the 1960s three more Goofy shorts were produced.
After that Goofy was only seen on television and in comics for a while.
In 1983 he returned to theatrical animation with 'Mickey's Christmas Carol.'
He featured on television in 'Goof Troop' between 1992 and 1993, as well as 'House of Mouse' from 2001 – 2003.
Goofy's last theatrical appearance was in 2007 where he showed us how to 'Hook Up Your Home Theater.'
You can still catch Goofy and his friends on Mickey Mouse Clubhouse which started in 2006 and is still running on television to this day.
Goofy Plush Toys
Here are some cute Goofy plush toys that you can order online at great prices, simply by clicking on whichever Goofy you prefer.