I am sure very few of you haven't heard of the Chip And Dale Cartoon Characters. In fact, they are well known as everybody's favorite chipmunks.
Please note that this post may contain affiliate links.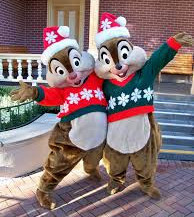 Chip and Dale (also spelled Chip 'n' Dale or Chip an' Dale) are two anthropomorphic chipmunk brothers. They were created by Walt Disney Productions way back in 1943.
Their names are a pun on the name of the 18th-century cabinet maker and furniture designer Thomas Chippendale, and Bill Henson who was a story artist at the studio suggested using his name.
The first Chip and Dale Cartoon was introduced in 1943 and they starred alongside Pluto in a short called Private Pluto. They fight with Pluto about where to store their nuts. Three years later  they were used again as antagonists in some Donald  Duck shorts.
What Are The Differences Between Chip And Dale?
Chip is portrayed as being focused and having a mind for logical scheming. Dale on the other hand is more laid back, dim-witted, and impulsive with a strong sense of humor.
When they stared with Pluto they had a very similar appearance, but after that, some differences were introduced. Chip has smooth hair on the top of his head, a small black nose, and two centered protruding teeth and Dale has ruffled hair on his head, a large dark red nose, and a prominent gap between his buckteeth.
Chip And Dale Cartoon Success Stories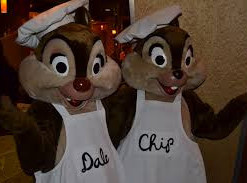 In most cartoons, they are antagonists against Mickey Mouse, Pluto and of course impatient Donald Duck.
The chipmunks were given their own series in the 1950s, but only three cartoons resulted under their name:
Chicken In The Rough (1951)
Two Chips and a Miss (1952)
The Lone Chipmunks (1954)
The duo was nominated for the Academy Award for best animated short film three times in four years as follows:
Squatter's Rights (1947)
Chip an' Dale (1947)
Toy Tinkers (1949)
In 1989, Chip and Dale became the title characters in a new animated television series called Chip 'n Dale Rescue Rangers in which they form a detective agency with new characters created especially for the show. Although they were always depicted as trouble makers in the past, in Rescue Rangers they are crime fighters who help the less fortunate.
They have a revamped wardrobe to suit their new images and the show was a huge success.
Chip and Dale have also appeared episodes of the Mickey Mouse Clubhouse, and make recurring appearances in Mickey Mouse Mixed-Up Adventures as mechanics.
In 2017 they appeared in the TV series Duck Tales. They can also be spotted in the 1983 featurette Mickey's Christmas Carol where they are seen dancing to the music inside Fezziwigs.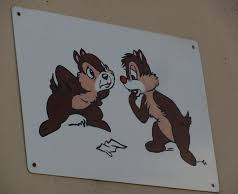 They also appear at all the Disney Parks as well. In the new Mickey Mouse episode "Space Walkies", they made a brief cameo as they were being chased by Pluto.
Who Did The Voices?
The earliest voices were provided by female office staff without credit.
In Private Pluto, the speech was created by speeding up sound clips of normal speech, and many of these were reused again.
After that, the classic voices were mostly done by Dessie Flynn, Jimmy Macdonald, Helen Silbert, and Dessie Miller.
Since 1988, Chip has been voiced by Tress Macneille and Dale has been voiced by Corey Burton.
Here is a more modern-day cartoon called Nutty Tales for you to enjoy.
Chip And Dale Cartoon Merchandise
If you want to find out how to go about ordering any of the cute products below, simply click on the pic.