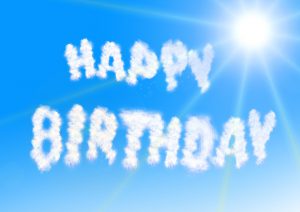 Here are some great excuses to celebrate Birthdays at Disneyland.
Celebrating your Birthday or even your child's birthday at Disneyland is a wonderful idea and Disneyland caters to Birthdays wonderfully. Having your Birthday at Disneyland will make sure that this will be one Birthday celebration that you never forget.
It doesn't even matter if it is not the exact date of your birth, as long as it is close enough.
You can start your Birthday celebrations by going to City Hall, which is located in the Town Square. Here you will receive a complimentary birthday sticker or button. This is to let everyone at Disneyland know that you need to receive special treatment for that day.
Make sure to eat in one of the full-service restaurants, and make sure that you order the Birthday Bucket. The Birthday Bucket is full of Disney treats and includes a cake. This costs around $20.
If you eat breakfast at Goofy's Kitchen, you can purchase a Birthday Bag for $5.
Other options include customized Birthday cakes, flowers, and treats that can be pre-ordered. You can even organize a Disneyland Resort Room Celebration for all your friends, but this will set you back in excess of $500.
There are many ways to celebrate Birthdays at Disneyland, and you will receive special treatment from all of the Disney Characters. This will make for a memorable Birthday celebration for both you and your child.
Make sure not to be shy about telling the staff it is your birthday if they don't notice your sticker and make sure to have your camera handy for those extra special, once in a lifetime Disneyland snaps.
You can find out more on how to celebrate Birthdays at Disneyland by visiting this site: https://disneyland.disney.go.com/events-tours/birthdays/
Now if you think Birthdays at Disneyland are special, then click here to read about what you can experience at Christmas.