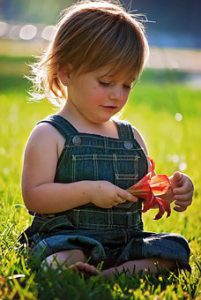 Do you have a potential Disneyland Toddler?
Because Disneyland was designed for children (and adults) of all ages, toddlers are no exception! There are many things at Disneyland that you can enjoy with your Disneyland Toddler. In fact, unless you are staying for a few days, there is no way you will be able to get through all that this magical place has to offer for the Disneyland Toddler.
There is Toon Town, where you will find all your toddler's favorite Disney Characters lurking. These include Mickey Mouse and his girlfriend, Minnie.
All of the characters have homes in Toon Town that are full of things to amaze and delight your toddler and make them laugh.
The Disneyland Railroad is a great way to get around the park that your toddler will love. There are stations at Toon Town, Tomorrowland, New Orleans Square and on Main Street. This is a great opportunity for you to sightsee and rest while your toddler enjoys the ride.
It's A Small World is also a very appropriate venue for your Disneyland toddler.
The music and colors will keep your child mesmerized, and at the same time, you can enjoy a relaxing ride across the lake.
The Storybook Land Canal Boat is a great choice as it will take you through the miniature villages that your child will be familiar with from their story books.
Other rides that the Disneyland Toddler cannot miss include King Arthur's Carousel, Dumbo the Flying Elephant, The Circus Train and all the rides in Fantasyland. Buzz Lightyear is a favorite with toddlers and not to be missed.
There are of course other areas of Disneyland that have attractions and rides that are suitable for toddlers, keeping to their promise that Disneyland is a place for kids of all ages.
Pay attention to the height requirement at the ride before approaching it with your toddler, as if he or she isn't allowed on it could cause a tantrum. Toddlers are not aware at this age what dangers could be lurking on a ride that is too old for them.
It is best to stick to the areas where the toddler appropriate attractions are located as much as you can.
Coping With Your Disneyland Toddler
I am sure if you are dealing with a toddler, then you probably know all this already, but here goes:
Make sure they get lots of sleep, as they tend to get over excited as they get tired quickly.
Do the majority of the toddler stuff in the morning while he or she is still fresh.
Do not plan anything in the late afternoon – you are asking for trouble.
Don't feed them too many sugary treats, or you will end up with a hyper toddler on your hands.
Keep them in sight and close at hand at all times, as they love to run off and get lost in the blink of an eye.
Stay away from rides that he or she isn't allowed on, or you will have to explain why and have a possible tantrum to deal with.
Enjoy the experience, they are only going to be that age for a very short time.