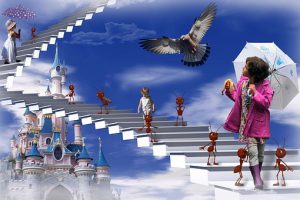 Are you planning to have a Disney Vacation? Here are some tips and a Disney Vacation Planning Guide that I hope will help you to have the best holiday ever. This post may contain affiliate links, which means that if you decide to purchase something off of this page, I will get a small commission.
A Disney vacation is the ultimate vacation any person, whether young and old, dreams of turning into reality. But since most people cannot afford a grand Disney vacation, many of them just let this dream go without knowing that they actually can do something to have the greatest vacation anybody could ever dream of having!
Disney Vacation Planning Guide
Disney has created many sites on the internet where people who are planning to go on a Disney vacation can get help and tips on how to save for their vacations. Try a couple of searches for yourself.
Disney has also created a Disney family club for people who want to have a vacation to get immediate access to the site. Since a Disney vacation costs a lot, there is also the ultimate Disney savings site where people can save even more on their trip. Here you can pick up discounts on things like food, tickets, merchandise, hotels and much more.
Now, you can stop worrying about how much your Disney vacation going to cost. Because of the great deals offered by Disney, you can now start plotting and planning your dream Disney vacation and envision all the fun that awaits you and your family. Some of the tempting deals include low prices on Disney rooms, tickets, dining, souvenirs, cruises, and Disney vacations.
For a bit more of a perspective, you can also ask friends or people you know who already went on a Disney vacation so you can get first-hand tips. This would be very helpful since they can give you specific details to ensure that you get the best out of your vacation.
You can even open a Disney savings account online, which helps you to save towards your holiday. Although there are a lot of upsides offered with this account, the downside is that they don't pay you interest while your money sits there. I would recommend saving for your Disney vacation in an account that offers you a great interest package.
The best-selling independent guide to Walt Disney World has everything you need to plan your family's trip―hassle-free and I highly recommend this gem to anybody who is wanting to visit Disney World. This book gives you the insider scoop on hotels, restaurants, and attractions.
The Unofficial Guide to Walt Disney World 2022 explains how Walt Disney World works and how to use that knowledge to make every minute and every dollar of your vacation count.
With an Unofficial Guide in hand―and with authors Bob Sehlinger and Len Testa as guides―find out what's available in every category, from best to worst, and get step-by-step, detailed plans to help make the most of your time at Walt Disney World.
There have been lots of changes at Walt Disney World, from park opening procedures, to rides, restaurants, and hotels. Here's what's NEW in the 2022 book:
When to visit Walt Disney World to get lower crowds and bigger hotel discounts.

Details on how COVID-19 and social distancing measures have impacted Walt Disney World Resort.

Complete coverage of Disney's NEW Remy's Ratatouille Adventure, Guardians of the Galaxy, and TRON Lightcycle Run attractions.

The latest on new Disney programs such as Early Theme Park Entry.

Tips on how to avoid long lines in a World without Disney's FastPass ride reservation system.

The newest, best places for ticket and hotel deals.

The latest on discounted stroller rentals, car rentals, and vacation homes.

A preview of the new fireworks shows Enchantment and Harmonious.

Updated reviews of every Walt Disney World restaurant since reopening.

The best hotel rooms to request at every Disney resort.
What Is Better A Room Only Reservation Or A Disney Vacation Package Deal?
Buying a Disney World Vacation Package means you must purchase your hotel room and either dining or tickets or both for each person in the party directly from Disney, with all those things priced and sold together as a "package."
Disney Vacation Packages are not normally discounted and prices are about the same as paying for separate components. However, certain special offers such as "free dining" apply only to vacation packages. You would need to book a Vacation package though your travel agent.
Sometimes your most economical option is to book a room only reservation at the Walt Disney World resort of your choice and buy the other components of your vacation (i.e. tickets and meals) separately. However, it is a lot more work than booking a package.
Room only reservations offer better terms for cancellation and payment dates than vacation packages booked through the Walt Disney Travel Company (WDTC). When booking a room only reservation, you are subject to very few restrictions in comparison to booking a package. You can read more about this here.
A lot of people like Disney's vacation packages because they are convenient and worry-free. You get everything you need (except airfare) with one purchase. However, it is important to note that the standard full-price Disney vacation packages are designed for convenience rather than savings.
What Should I Take With Me On My Disney Vacation?
Now that you have almost everything planned for that perfect Disney vacation, it's now time for the equally tiring but enjoyable part: packing. Here are some packing tips on this Disney vacation planning guide.
Unfortunately, Disney World is one of the most complicated vacation destinations in the world. We know planning a Disney World vacation has become one of the most frustrating exercises and you'd just like to be there already having fun.
The most important planning steps of your Disney World trip happen as much as one year BEFORE your vacation starts, or even more in some cases.
Some things you are going to have to think about are:
What dates do I want to go?
Are those dates flexible?
What sort of budget do I have?
What type of hotel/accomodation do I want to stay in?
How many days do I want to go to the theme parks?
The more work you do before your trip to plan everything out, the easier things will be for you and your family once you get there. So get organized.
If you are looking to go to a destination where you can just "wing it" and not have to make any plans ahead of time, then Disney World is not going to be a vacation destination for you.
Even if you are not ready to book your vacation yet, start reading up on Disney World and familiarize yourself with all the locations, attractions, restaurants, and special events. Try looking through the official Walt Disney World website and download the My Disney Experience app on your mobile device.
It is definitely good to plan exactly what you want to do when you get there, and here are some things you perhaps didn't know about.
There are four Theme Parks in Disney World: Magic Kingdom, EPCOT, Hollywood Studios and Animal Kingdom
There are two Water Parks: Blizzard Beach and Typhoon Lagoon
There are twenty five Resort Hotels to choose from.
There are countless Outdoor Activities to do such as swimming, fishing, golf, boating, and more.
There are five golf courses and 2 mini-golf courses.
Disney Springs is the nighttime entertainment hub with dozens of first-class restaurants and shops.
You can catch a Dinner Show at Mickey's Backyard BBQ, Hoop-Dee-Doo Musical Revue, and Disney's Spirit of Aloha Show.
Disney World is a self-contained city with its own fire department, water treatment, waste disposal and power generation.
It is huge at 25,000 acres. That means travel time can take time off of your vacation.
I think that with all there is to see, one would need between five and seven days to get through it all. If you have the time and the money, it is recommended doing a nine or ten-night stay and really taking the time to soak it all in. That gives you enough time to visit all four parks multiple times, and have days off to relax. It is also cheaper per day if you stay longer.
What Will I Need To Take To Disney World?
1. Clothing
When it comes to packing clothes, you must make sure to pack comfortable changes of clothes and a new set for each day. Include some jackets, extra shirts, shorts, and blankets.
2. Basics
Along with your clothing, you will need a complete set of toiletries. Be sure to carry enough bath soaps, mouthwash, toothbrush and toothpaste, deodorants, cologne/perfume, tissues, cotton swabs, lotion, cosmetics, cotton balls, combs and brushes. Make sure to prepare a simple first aid kit that contains band aids, aspirin, moist towelettes, sunscreen and gauze, because you never know what may happen.
3. Important items
Some of the must-haves when going on a Disney vacation include wallet and/or purse and cash, credit cards and/or traveler's checks, car and house keys, eyeglasses and/or contact lenses, prescriptions and other medications, itineraries, tickets and reservation confirmations, maps and directions, camera, film, digital camera memory cards, and batteries.
Here are some more items that will come in very useful on your Disney Vacation for this Disney Vacation Planning Guide:
These are affiliate links, which means that the owner of this website will be paid if you decide to make a purchase.
If you have anything else to add to this Disney Vacation Planning Guide, please feel free to comment below.