If you are a Disney fan like I am, then you are going to love the ideas of Walt Life Company and how they keep their Disney fans happy and well stocked with Disney collectibles with their choices of Disney In A Box.
I was pleasantly surprised to discover the Walt Life Company this week and they have a wonderful array of Disney Boxes for you to choose from. These boxes are themed so they will suit the smallest member of your household to your teenagers and then even the adult fans.
The shipping if free if you live in the US.
Disney In A Box – Literally!
If you are a Disney fan, then you are going to love these boxes and the fun that they can bring into your life each and every month.
It's the perfect year-round gift for that Disney fan you love and there is a wonderful selection available.
The Walt Life Fan Club builds magical subscription boxes, and delivers them to your doorstep every month! Let's take a peek and start building your customized box now!
Magic Plus Box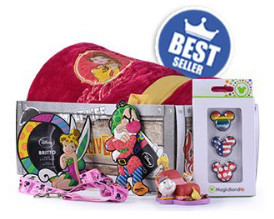 The Disney Magic Plus Box is the most popular and is crammed with Disney goodies each month that the entire family can put to use.
There is the option to skip a month and also to customize your box accordingly (Prince, Princess, or Neutral).
Walt Life – Disney Subscription Box can be ordered by clicking on the link.
Kingdom Box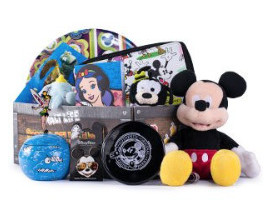 This Disney in a Box item contains 6 or more items each month to enjoy.
You can also choose the skip a month feature and have a choice to get a box for a prince, princess or a neutral one for the family to share.
Surprise Box
The surprise box is the perfect way to make your Disney Vacation Announcement and to build up excitement for your family.
The Disney Snack Box
This snack box has more than five Disney Snacks for you to enjoy straight from Disney Parks.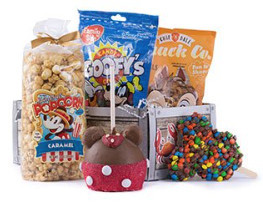 So if you want to spoil your family or yourself, why not try ordering some Disney in a Box by clicking on the banner below: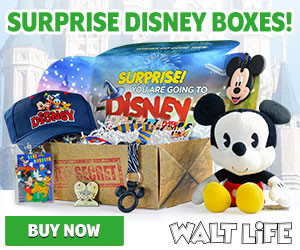 In case you have never heard of Walt Life, they are not affiliated to Disney World or Disney Land in any way, but they have had a wonderful reputation with their customers for a few years now.
Reviews For Disney In A Box:
Here are some of the reviews that satisfied customers gave for their monthly boxes.
"Grace U – March 25, 2019
I'm glad that I signed up for Walt Life! I haven't been to the Parks for a long time since vacations are so expensive, but this is a great way to get a piece of Disney at home!
Ann M – April 1, 2019
Seriously in love with this box. Worth every penny!
Justine G – March 21, 2019
There are a few things I didn't really need/like but I guess that's part of the fun of a mystery box. Overall pretty good items.
Lisa W – March 17, 2019
You guys exceeded my expectations. Everything I received I will be able to use!
Kassidy M – March 14, 2019
I get this box for my niece and nephew, they love it and I love watching them open it!
Michael C – March 12, 2019
Definitely a great way to hold me and my family over until we head to Disney in June! We are so excited!
Luke L – March 11, 2017
Other Disney subscriptions don't compare to Walt Life.
Nadine F – February 10, 2018
Only see my grandkids once a month, so love having a Disney box waiting for them.
Jake K – January 22, 2018
This was the best gift ever for my girlfriend! I'm pretty sure I just gained a few points on the boyfriend scale, haha. Thanks
Jamie M – February 17, 2018
An item was missing from my box customer service sent me my replacement and extra items for 3 months
Shirley E – May 20, 2018
We love Walt Life and the services they can provide. We think it is unique and perfect for Disney fans."