Here is a Shortened version of the Walt Disney Company History.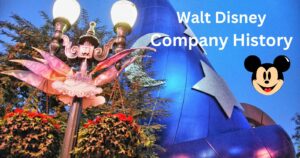 The Walt Disney Company has had an oversized impact on the entertainment industry and is now one of the largest media companies in the world. Our Walt Disney Company History began as a little animation studio in the garage of Walt and Roy Disney's grandpa.
This small venture was founded on October 16, 1923. Now Walt Disney's company has grown to profits of over $34.3 billion. Wow, that makes Disney 100 years old this year.
Walt Disney was a talented artist from a very young age. He drew cartoons for various publications and became interested in cel animation while working for the Kansas City Film Ad Company.
After his Laugh-O-Gram Studio went bankrupt in 1923, Walt moved to LA, where Roy, his brother, was recovering from tuberculosis. While there, he finally sold a short film produced by Laugh-O-Gram, Alice's Wonderland, and signed a contract to make six more such films. In order to produce the series, the brothers founded their company and persuaded both Virginia Davis, who played Alice, and their collaborator Ub Iwerks to join them in Hollywood.
After the success of the Alice Comedies and a series based on a character named Oswald the Lucky Rabbit, Disney began work on his most famous creation. With the 1928 release of Steamboat Willie, the world was introduced to Mickey Mouse. This famous mouse character would go on to become one of, if not the most recognizable cartoons in history.
In 1924 Walt Disney persuaded his brother to rename the studio Walt Disney Studios.
As Steamboat Willie was the first animation with sound to achieve appeal, Walt Disney had the ability to expand his endeavors a year later on into three extra companies: Walt Disney Enterprises, Disney Film Recording Company, and Liled Realty and Investment Company.
Over the next few years, a few of Disney's beloved characters were introduced into the world.
Pluto in 1930
Goofy in 1932
Donald Duck in 1934
In 1937 the studio's very first feature-length animation movie was released. Snow White and the Seven Dwarfs made history books by being the very first animated feature film ever produced. The next year, Walt Disney combined all his companies under one title, Walt Disney Productions, and in 1940 the production house launched both Pinocchio and Fantasia.
As the studio started to grow, the United States' venture into World War II caused a slowdown in movie production as Disney was rather contracted to create morale-boosting federal government propaganda. The next 10 years were fairly slow for The Walt Disney Company, and films produced were exclusively low spending or took years to produce. Bambi, for example, was in production for 6 years prior to its theatrical release.
In 1950, the business was revived with the release of Cinderella, and 1952 saw Walt Disney begin to plan the Walt Disney Productions Theme Park.
It wasn't until 1967 that work in fact started on the theme park, even though the Walt Disney Company went public about it ten years prior.
The Walt Disney World Resort opened in Orlando, Florida in 1971, and Disney started to make its venture into live-action films.
Although there were many ups and downs in the years following Walt's death, the business continued to go far for itself and advance to new grounds.
While there have been lots of problems over the last few years, like the controversy over CEO Michael Eisner's policies and a number of hostile quote takeover attempts, the company has handled its press well and continues to hold its place as one of the largest and most influential companies on the planet.
Disney now owns and operates ABC, ESPN, Pixar, Marvel Studios, and Lucasfilm.
And that concludes our short Walt Disney Company History.