Let's look at surviving the heat at Disney World Resort, because let's face it, Orlando is situated on a hot part of the earth. Going to Disney World Resort can become a little uncomfortable in the summer, as the humidity and temperature can reach up into the triple digits. Worse still, the weeks of heat occur precisely when school is out and families head to Walt Disney World during the peak holiday season.
This post may contain affiliate links, which means that the owner of this website will get a small commission if you choose to purchase anything.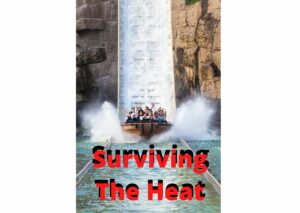 No one in their right frame of mind considers heat, humidity and crowds of people a fun combination, however, with some preparation, your family's summer season holiday to Disney World Resort can still be fun.
If you stay in a Hotel based at the Disney World Resort, you can commute to the parks in air-conditioned luxury in the Disney monorail, a bus or use the water transportation. This is certainly a much better choice than travelling in a car that has been baking in the sun for hours.
Also, if you stay on-site, Disney will reward you with the benefit of the Extra Magic Hour. This is when on designated days the park will open an hour earlier and only allow Disney Resort guests in.
Another way to cool down at a Disney World Resort on a hot summers day is by making sure that you have a park hopper pass. In this way, you can cool down quickly by visiting one of the water parks.
Both Typhoon Lagoon and Blizzard Beach offer loads of enjoyable and cools rides in the water. Just a word of caution here – the parks get crowded pretty quickly on a hot day, so try to get there early so you don't need to cue in the hot sun for ages.
Other Tips To Surviving The Heat At Disney World Resort
Wear your sunblock, sunglasses and a hat.
Take some cool sandals and light cotton clothes. Some rides you will need takkies and socks, but it is going to get hot walking around in these the entire time.
Drink lots of water, even if you don't feel thirsty and if somebody in your group does get dehydrated, get to one of the First Aid Stations.
Never sit in a parked car in the heat.
Use a hand held fan like the one on the right.
Cancel or postpone outings. If you absolutely must go out, stay in the shade and take plenty of water with you.
Make sure any food you eat has not been standing in the sun for too long, as you definitely don't want a tummy bug while on holiday.
This mini 5 oz spray bottle is easy to carry around as it is small and it is curved which makes it easy to hold. By clicking on the water bottle, you can purchase either one or two of these useful contraptions by clicking on the bottle to the right.
Avoid heavy exercise or taking part in energetic outdoor activities, unless they are in the water.
Please leave a comment below if you have been to visit Disney World Resort in the heat of the summer and let us know how you fared at surviving the heat at Disney world Resort.