If you want to inject a little bit of magic into your holidays, then Disney's newest animated musical Encanto on Disney Plus is just the thing to do this.
The Encanto movie features new music from Hamilton composer Lin-Manuel Miranda. It tells the story of the Madrigal family who lives deep in the mountains of Colombia. Everyone in the family has magical abilities, like super strength, healing powers, or the ability to make plants grow on command.
Everyone, that is, except our protagonist, Mirabel Madrigal, who is voiced by Brooklyn 99 alum Stephanie Beatriz.  Poor Mirabel is the only non-magical member of her family, and yet it's up to her to save the world of magic when it comes under threat.
The kids are going to love this one!
Is Encanto On Disney Plus?
The film premiered at the El Capitan Theatre in Los Angeles on the 3rd of November 2021. Encanto opened at the movie theatres on the 24th of November 2021, so from the 24th of December 2021 it was available to stream free on Disney Plus and on all other major digital platforms.
Disney's Encanto received positive reviews from critics but has underperformed commercially, due to a shortened theatrical run before becoming available on Disney Plus. It has grossed over $206 million and it was the highest-grossing animated film of 2021.
Since its launch, the film has been a source of confusion for many interested in watching the movie. Questions about whether there's a fee, and a few other aspects of the film's presence on Disney Plus, have become some of the most popular search trends on Google.
You can sign up for Disney Plus on the streaming service's website. At the time of writing this post, the cost was $7.99 per month or $79.99 per year.
Unlike the premium subscription fee that was required to watch "Cruella" or "Mulan," anyone who is currently subscribed to Disney Plus has access to "Encanto" on-demand. There is no additional cost required to watch the film.
More About Encanto The Disney Movie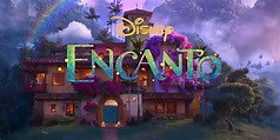 "Encanto" is directed by Jared Bush and Byron Howard, co-directed by writer Charise Castro Smith who co-wrote the screenplay with Bush, and produced by Yvett Merino and Clark Spencer. Encanto stars Stephanie Beatriz, María Cecilia Botero, John Leguizamo, Mauro Castillo, Jessica Darrow, Angie Cepeda, Carolina Gaitán, Diane Guerrero, and Wilmer Valderrama.
Encanto is a 2021 American computer-animated musical fantasy comedy film produced by Walt Disney Animation Studios and distributed by Walt Disney Studios Motion Pictures.
The Plot: (Spoiler Alert – Do not read this if you don't want to know the story line)
Mirabel Madrigal, a member of the Madrigal family who does not have magical powers, must find out what is happening to save both her family and her home after the magic is threatening to disappear.
This movie starts in the past with Alma Madrigal who is forced to flee her home due to armed conflict. She loses her husband Pedro but saves her triplet infant children: Julieta, Pepa, and Bruno.
Her candle attains magical qualities and blasts away their pursuers, creating a sentient house, the "Casita", for the Madrigals to live in, along with a village sheltered by tall surrounding mountains.
Fifty years later, the candle continues to burn and the village thrives under its protection. The candle's magic gifts give each member of the Madrigal bloodline superhuman abilities that they use to help the villagers. However, Bruno's gift of precognition causes multiple conflicts that cause the family to have a low opinion of him, while Mirabel, Julieta's youngest daughter, is treated differently for mysteriously not having received a gift.
Pepa's youngest son Antonio is gifted the ability to speak to the animals, and the family poses for a portrait but accidentally leaves out Mirabel. Mirabel suddenly sees cracks in the Casita and a vision of the candle's flame going out, but her warnings go unheeded when the Casita appears undamaged to the others.
Mirabel resolves to save the miracle's magic. Her super-strong older sister Luisa suggests that Bruno's room, which is located in a forbidden tower in the Casita, may hold some clues to the phenomenon. After Mirabel narrowly escapes the cave, Luisa realizes that her family's gifts are starting to weaken.
The next night, Mirabel's oldest sister Isabela, who can make flowers grow at will, is scheduled to become engaged to neighbor Mariano Guzman.
Mirabel's oldest cousin Dolores, who possesses superhuman hearing, admits to overhearing Mirabel talking with her father about Bruno's vision.
Mariano's proposal is disrupted when the Casita once again begins to crack, causing Pepa, whose emotions control the weather, to conjure up a thunderstorm.
Isabela blames Mirabel despite her protests. Mirabel glimpses Bruno hiding in the walls; he never actually left the house because he still loves his family. Mirabel convinces Bruno to make predictions again. Bruno creates another vision, which shows Casita collapsing and an image of Mirabel embracing a young woman, who they identify as Isabela.
Mirabel goes to apologize to Isabela. Isabela does not want to marry Mariano and is burdened by her image of perfection. Mirabel helps Isabela blossom into her true, imperfect self, and the sisters embrace. However, Alma spots Isabela growing whatever she wants with Mirabel from afar and accuses the latter of causing the family's misfortunes out of spite for not having a gift.
Mirabel finally snaps at Alma, saying everything was truly her fault for making everyone do things her way. Their argument suddenly creates a huge fissure that destroys Casita. Alma's magical candle dies in Mirabel's hands despite Marabel's efforts to save it, leaving all the Madrigals powerless.
Alma later finds a tearful Mirabel at the river and finally takes responsibility for placing too much pressure on the family and forgetting that their real gift was not their powers but the family itself.
Mirabel finally begins to understand her grandmother, and tells her that despite her flaws, Alma in fact saved her family. With Bruno in tow, they reunite with the Madrigals and the villagers to rebuild the Casita.
When finished, the Casita springs back to life, and the magic of the house returns as do the family's magical gifts. The Madrigals then pose for another family portrait. This time Mirabel and Bruno are included.
The soundtrack for the film was released on November 19, 2021. It peaked at number seven on the US Billboard 200.