The Disney Company is a great example to look at when looking for customer relationship management examples.
CRM is an acronym and it stands for Customer Relationship Management. This set of words describes the strategy that a company uses to handle customer interactions. CRM is basically a very clever marketing ploy.
One example of a common CRM strategy is the rewards card program offered by many supermarkets and clothing stores. The store gives its customers a free card that gives them access to special deals and discounts when they swipe the card during checkout. But that card also tracks everything the customer buys and allows the store to create an extremely detailed customer profile based on his or her purchasing habits.
CRM is also used to get the contact information of its consumers so that it can advertise to them via email and send out notifications of specials and sales they may be having to entice customers back into their stores.
This post contains affiliate links, which means that if you decide to purchase anything on this page, the owner of this website will get a small commission.
Customer Relationship Management Examples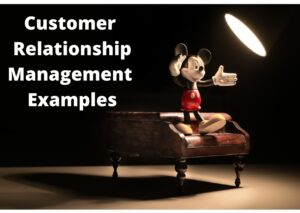 I am looking at the Disney Company as one of the best customer relationship management examples on the planet.
Disney has many businesses that deal directly with the public, among these its famous Theme Parks. This is where millions of people go each year to have a fun filled time with their family and friends.
Disney developed these places all in the name of entertainment, filling the senses of the park patrons with a top-notch and unique kind of fun. Since these are the showcase businesses of Disney, this is where all their valued customer relationship management examples would come into full play after some hard training sessions that are done for all their staff that work there.
Here are some of the many things that Disney makes sure to do when training their staff for customer relationship management or CMR.
Customer Interaction Face to Face
Most companies, including Disney, require their employees to know the company's "mission statement", or to come up and create one for themselves. However, very few employees know or even understand what mission statements actually say or mean.
At Disney, the company has spent time training their employees on basic customer care. When a guest shows signs of being in need, the Disney attendant stops whatever he or she is doing and offers to help.
If a customer shows signs that they are looking for something, chances are a Disney employee will appear in front of you and asks if he can help you find what you are looking for.
All guests are treated like VIPs
The best gauge on this is how Disney personnel treat guests, especially those with disabilities. Each one is assured of a comfortable stay and treated like gold. This, in turn, makes all its visitors feel really special and pampered.
Riding public transport is never easy for people who cannot walk. At Disney, the attendants want to make sure that guests with disabilities can turn their trip into something positive, comfortable and enjoyable.
'Plussing"
Walt Disney himself coined the word "plussing". He defined it as "giving people a stellar entertainment experience 'plus' constant improvements on it."
This is the down-to-earth frame of mind where people never rest looking for something better. If something can be improved on, it is improved right away.
When the Euro became the official currency in Europe, Disney immediately changed the name of his European park from Euro Disney to Disneyland Paris.
He did not want his park to have a name associated with money or commerce. Moreover, the uniqueness of the European Disney world would have been "diluted" (and easily forgotten) had it acquired the same name or affiliation as the Euro.
Attention to small details
At any Disney Company, the attention to detail is unequalled.
John Hench, a former employee, wrote: "What's our success formula? It's the attention to infinite details, the little things, the minor picky points that others just don't want to take the time, money or effort to do."
This is an example. In the mornings at Disney offices, guests will hear up beat and energetic music. In the evening, the music is changed to decidedly mellow tunes, in deference to guests who are presumed to be tired after a long day.
Disney has invested a lot of time and energy working on this during the company's long preparation for its theme parks. Aids, such as background music, are one of the things most usually forgotten, or never having been thought of in the first place.
Just watching one of their parades, you will be amazed at the attention to detail, from each costume, to the floats to the way that the parade is choreographed.
With Disney's brand of customer relationship management examples, is it any wonder how the company has grown to its present size?