If you have had the wonderful experience of watching Disney's Tangled, then no doubt you will know Maximus From Tangled. He is the very comical white horse that has an important role in the film, and quite frankly I don't think Tangled would be quite the same without him in it.
Maximus is a large white horse with a blond mane and tail, and brown eyes. He wears a distinct saddle with the sun symbol of the kingdom. At the start of his appearances, Maximus' mane was tied up in braids; after falling down a cliff during a scuffle with Rider, the braids were loosened, giving Maximus a wilder look.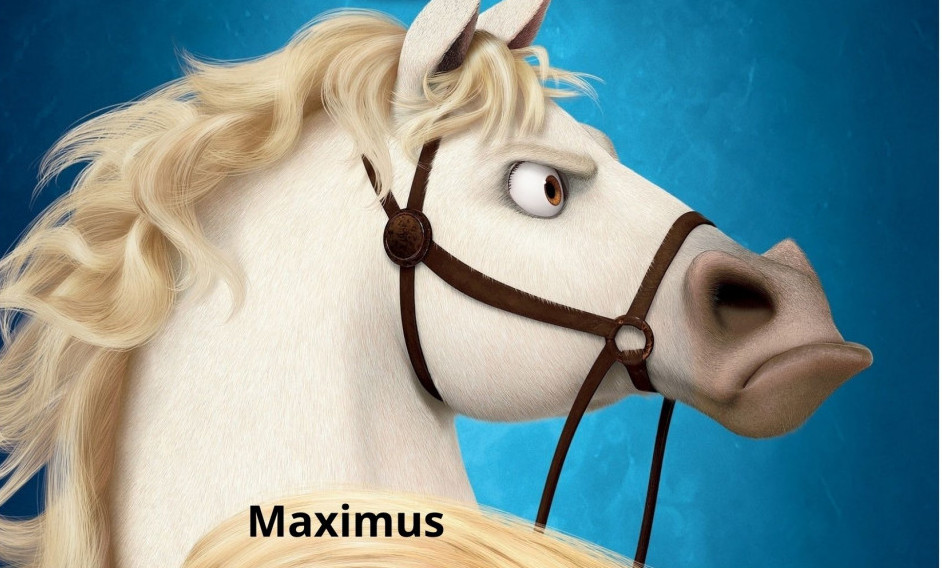 Maximus is the overall tetartagonist of the Tangled franchise and one of the two main protagonists (alongside Pascal the chameleon) of Tangled Ever After, and a supporting character in Tangled.
He is a palace horse for the Royal Guard of Corona and the former arch-rival of Flynn Rider and he makes it his own personal mission to capture Flynn Rider.
Although he is viewed as a mode of transportation and pet to some, Maximus is actually far more fierce and efficient than the captain himself. Proving to pose much more of a threat to Flynn Rider during his days as a thief, it is extremely likely that Maximus would have captured Rider without fail, had Rapunzel not intervened.
"The Captain of the Guard's horse, Maximus, has made it his personal mission to capture the wanted criminal, Flynn Rider. Fearless in his pursuit, the horse defies danger to follow Flynn where other guards refuse to go – it seems nothing will stop this "tough-guy cop" from getting his man. Once Maximus meets Rapunzel his heart softens, and he begins to see the world differently. What started as a relentless pursuit may just be the beginning of a beautiful friendship."
When separated from his team in their pursuit of Flynn, Maximus ended up taking matters into his own hands by tracking down the wanted thief, himself, and nearly apprehending him on several occasions.
Because of his respect for the law, Maximus was mostly at odds with Flynn throughout the original movie. He apparently viewed Rider as irredeemable on account of his crimes and would stop at nothing to get him behind bars.
There is intense rivalry between Flynn and Maximus throughout the movie, but beneath Maximus's tough exterior is a soft heart, which melts slightly towards him as he sees Flynn changing his ways for the better for the sake of his love for Rapunzel.
So far in the Disney theme parks, Maximus has only appeared in the 2010Disney Parks Christmas Day Parade, walking Rapunzel in the parade with Flynn by his side. He has also appeared in the follow up of Tangled, Tangled Ever After, as well as the Tangled TV series.
Aboard the Disney Magic Cruise, Maximus is prominently featured as a puppet during Tangled: The Musical.
This is my favorite Maximus scene from the original Tangled movie.
Here Are Some More Things You Probably Didn't Know About Maximus From Tangled:
During the prologue, a white horse plush resembling Maximus can be seen on the infant Rapunzel's baby mobile.
Maximus's looks are based on the Andalusian horse breed.
Maximus's exact age is unknown, but the dialogue in "Max's Enemy" seems to suggest that he is somewhat old for a horse.
Because the story of Rapunzel is based on a German Fairy Tale, the writers originally planned to subtitle his neighs in German. One of his iconic lines, when arguing with Flynn, was "Ich bin ein dreckiger kleiner Schweinejunge, bitte trete mir mit deinen Stiefeln auf." This roughly translates to "I guess you're the big stick in the mud now, aren't you?"
Maximus expresses his dislike for mosquitoes in the short Night Bite.
Maximus' development is very similar to that of Altivo from Dreamworks' The Road to El Dorado. Like Altivo, he's a military horse who, due to a series of circumstances, ends up joining the side of the heroes.
Get Your Own Maximus Horse
Maximus fans can order Maximus products of their own online, simply by clicking on the product you like best. These are affiliate links.